Time Castaways #1: The Mona Lisa Key (Hardcover)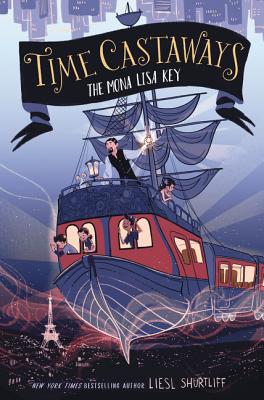 $16.99
Description
---
From Liesl Shurtliff, the New York Times bestselling author of Rump: The True Story of Rumpelstiltskin, comes a thrilling new middle grade trilogy about three city kids who get on the wrong subway train and wind up on a wild, magical mystery-adventure throughout time.
Imaginative, daring, and packed with fun, Time Castaways is perfect for fans of Escape from Mr. Lemoncello's Library and Percy Jackson.
Mateo, Ruby, and Corey Hudson's parents don't have too many rules. It's the usual stuff: Be good. Do your homework. And never ride the subway without an adult, EVER. But when the siblings wake up late for school, they have no choice but to break a rule. The Hudson siblings board the subway in Manhattan and end up on a frigate ship in Paris…in the year 1911.
As time does tell, the Hudson family has a lot of secrets. The past, present, and future are intertwined—and a time-traveling ship called the Vermillion is at the center. Racing to untangle the truth, the kids find themselves in the middle of one of the greatest art heists of all time.
And the adventure is just getting started.
About the Author
---
Liesl Shurtliff is the New York Times bestselling author of Rump: The True Tale of Rumpelstiltskin, other books in the (Fairly) True Tales series, and the Time Castaways series. She was born and raised in Salt Lake City, Utah, the fifth of eight kids. She now lives in Chicago with her husband and four kids, where she writes full-time with a cat on her lap.
Praise For…
---
"Time-traveling pirates, whimsical humor, a sentient ship, and cliffhanger predicaments deliver generous helpings of quirky, retro-tinged entertainment."
— Kirkus Reviews

"Third-person narration with memorable characters, an enticing plot, and some cool steampunklike magic will attract readers who love Jen Swann Downey's Ninja Librarians or Brian Farrey's Vengekeep Prophecies. A strong sense of the characters' humanity and interesting time travel paradoxes... A promising series for fantasy adventure fans."
— School Library Journal

"An engaging page-turner that will serve as an introduction to science fiction and mystery."
— Bulletin of the Center for Children's Books

Praise for RUMP:
"Lighthearted and inventive, Rump amusingly expands a classic tale."
— Brandon Mull, #1 New York Times bestselling author of Fablehaven

"As good as gold."
— Kirkus Reviews (starred review)

Praise for RED:
"Red is the most wonder-filled fairy tale of them all!"
— Chris Grabenstein, New York Times Bestselling author of Escape from Mr. Lemoncello's Library