When Sunday Comes: Gospel Music in the Soul and Hip-Hop Eras (Music in American Life) (Paperback)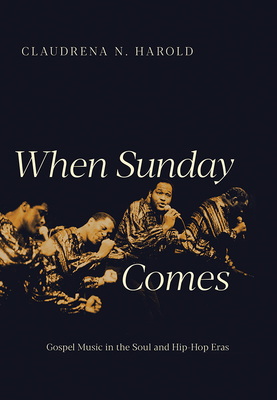 $22.95

Available to Ship from Warehouse - Ships in 3 - 6 days.
Description
---
Gospel music evolved in often surprising directions during the post-Civil Rights era. Claudrena N. Harold's in-depth look at late-century gospel focuses on musicians like Yolanda Adams, Andraé Crouch, the Clark Sisters, Al Green, Take 6, and the Winans, and on the network of black record shops, churches, and businesses that nurtured the music. Harold details the creative shifts, sonic innovations, theological tensions, and political assertions that transformed the music, and revisits the debates within the community over groundbreaking recordings and gospel's incorporation of rhythm and blues, funk, hip-hop, and other popular forms. At the same time, she details how sociopolitical and cultural developments like the Black Power Movement and the emergence of the Christian Right shaped both the art and attitudes of African American performers.
Weaving insightful analysis into a collective biography of gospel icons, When Sunday Comes explores the music's essential place as an outlet for African Americans to express their spiritual and cultural selves.
About the Author
---
Claudrena N. Harold is a professor of African American and African Studies and History at the University of Virginia. She is the author of New Negro Politics in the Jim Crow South and The Rise and Fall of the Garvey Movement in the Urban South, 1918–1942.
Praise For…
---
"A groundbreaking study." --Black Perspectives

"The beauty of Claudrena N. Harold's brilliant When Sunday Comes: Gospel Music in the Soul and Hip-Hop Eras is in how it illustrates the power of gospel music to maintain its character, grow from its roots, evolve to reach new listeners, and spiral steadily upward in its call-and-response to new audiences who acclaim the uplifting spiritual strength and enduring beauty of the music. " --No Depression

"A multilensed view of a continually evolving and consistently vibrant art form. For gospel fans, music scholars, and scholars of African American history and culture generally." --Library Journal

"An in-depth history of African American gospel music." --Booklist

"When Sunday Comes is the book we've been waiting for--a thoughtful and thought-provoking analysis of the impact contemporary singers, songwriters, and musicians have made, and continue to make, on gospel music. With this volume, Claudrena Harold makes a valid argument for scholars to look more closely at this important period in gospel music history."--Robert M. Marovich, author of A City Called Heaven: Chicago and the Birth of Gospel Music

"A prodigious job of research. The author seems to have consulted all available print sources in addition to important manuscript collections and interviews. No book covers this terrain as thoroughly and with such a deep knowledge and appreciation for the music. I don't think it would be out of line to describe When Sunday Comes as a labor of love."
--David W. Stowe, author of No Sympathy for the Devil: Christian Pop Music and the Transformation of American Evangelicalism