Dancing at the Pity Party (Hardcover)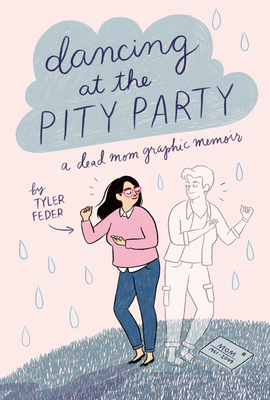 $18.99
Available to Ship from Warehouse - Ships in 3 - 6 days.
Description
---
Part poignant cancer memoir and part humorous reflection on a motherless life, this debut graphic novel is extraordinarily comforting and engaging.

From before her mother's first oncology appointment through the stages of her cancer to the funeral, sitting shiva, and afterward, when she must try to make sense of her life as a motherless daughter, Tyler Feder tells her story in this graphic novel that is full of piercing--but also often funny--details. She shares the important post-death firsts, such as celebrating holidays without her mom, the utter despair of cleaning out her mom's closet, ending old traditions and starting new ones, and the sting of having the "I've got to tell Mom about this" instinct and not being able to act on it. This memoir, bracingly candid and sweetly humorous, is for anyone struggling with loss who just wants someone to get it.
About the Author
---
Tyler Feder is a full-time illustrator based in Chicago. She graduated from Northwestern University in 2011 with a BA in Radio/TV/Film and a certificate in Creative Writing for the Media. She further honed her comedic skills at the Second City Training Center, where she graduated from the writing program. In 2012, Tyler began posting her artwork online, and within five years she had grown her illustration company, Roaring Softly, into a recognizable brand with a mix of witty pop culture art and intersectional feminist pieces. She has illustrated for Netflix, Comedy Central, and ESPN, and is the illustrator of Cristen Conger and Caroline Ervin's Unladylike.
Praise For…
---
Sydney Taylor Young Adult Book Award Winner
School Library Journal Best Book of 2020
YALSA Quick Picks for Reluctant Young Adult Readers List
YALSA Great Graphic Novels for Teens List
YALSA Excellence in Nonfiction Nominee

★ "Sincere but not sappy, this bittersweet and affecting meditation on the author's experiences also serves as a heartfelt celebration of her mother's life." —Horn Book

★ "Feder's simple art features light pink backgrounds, a diverse cast of supporting characters, and details that make the story feel real . . .  this book offers a wealth of perspective about coping with grief." —Publishers Weekly, starred review

★ "Equal parts celebration, reflection, and mourning, this graphic memoir touches on the unpredictable path of grief . . . Grieving teens will find incredible solace in Feder's story; all readers will be stirred by this wrenching yet uplifting musing." —School Library Journal, starred review

★ "Feder takes readers along on the nightmare road trip that nobody wants to make in a frank and funny, intimate and poignant graphic novel . . . The narrative, in peppily solid panel art, is exceptionally articulate and accessible." —BCCB, starred review

★ "Grief can be crushing, but this heartfelt memoir will comfort those who have known it and gently show those who haven't how to help and what to expect." —Booklist, starred review

"The pastel-toned illustrations effectively convey Feder's youth and the intensity of her emotions while emphasizing the ultimate message of survival and resilience in the face of life-changing grief. Cathartic and uplifting." —Kirkus Reviews