The Winning Horseplayer: An Advanced Approach to Thoroughbred Handicapping and Betting (Paperback)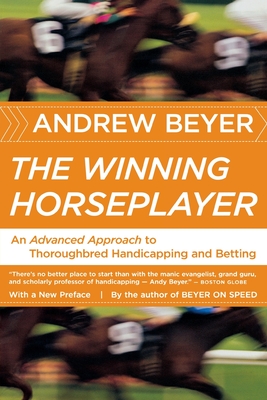 $16.95
Available to Ship from Warehouse - Ships in 3 - 6 days.
Description
---
In The Winning Horseplayer, Andrew Beyer builds on the strategy of speed handicapping that he detailed brilliantly in Picking Winners by introducing the concept of trip handicapping. Through an unbeatable combination of case studies and lively anecdotes, Beyer shows the smart bettor how to combine past performance data with an understanding of trips, track bias, and pace. This advanced guide to handicapping, which includes a new preface by the author, offers a generous dose of the wit and wisdom that have made Beyer a legend in the sport.
About the Author
---
ANDREW BEYER thoroughly revolutionized handicapping when he created his "Beyer Speed Figures," a measure of how fast a horse has run in a given race, and an indispensable tool for horseplayers. Making the necessary calculations to develop a set of figures for each horse in each race was too time-consuming for most horseplayers, so in 1992 the Daily Racing Form commissioned Beyer and his associates to provide his speed figures for every horse competing in North America. Beyer has been a columnist for the Washington Post since 1978, and contributes regularly to the Daily Racing Form. He is considered one of the leading experts on horse racing.
Praise For…
---
"This exuberant memoir will delight the hearts, improve the minds, and fatten the bankrolls of horseplayers everywhere." –Tom Ainslie"Andy Beyer goes to the races for all of us. Reading his book is like winning the exacta." -Jim Murray, Los Angeles Times"My $50000 Year at the races is an entertaining odyssey through the land of the handicapper. Andrew Beyer's approach to the arcane art of selecting winners makes for fascinating reading. His expertise is obvious, even to the layman, but he does not conceal the central thrust of the book- how to pick a winner- behind a façade of technical verbiage, This is good reading, start to finish." –Joe Hirsch"Horseplayers should forget today's daily double, exacta, and triple- and put their money on this sure winner." –Bill Surface, author of The Track