Five-Star Trails: Tucson: Your Guide to the Area's Most Beautiful Hikes (Paperback)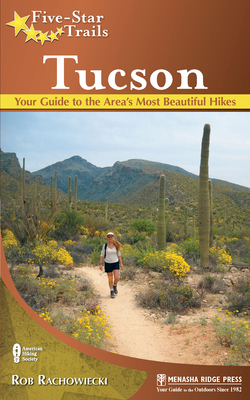 Product may not be available.
Out of Print - The publisher has officially designated the book as out of print.
Description
---
Tucson lies in a saguaro-studded desert basin surrounded by four mountain ranges and book-ended by two national parks. In an hour you can drive from an arid canyon in the Arizona-Sonora desert to a pine-forested mountain at 9000 feet. Hiking trails are plentiful and as varied as the terrain. Five-Star Trails: Tucson by Rob Rachowiecki guides hikers to diverse trails suitable for anyone from wheelchair-using nature lovers to those looking for an all-day workout. Sized to fit in a pocket, this guide is convenient to keep in the car or toss into a backpack. Driving directions steer hikers to the nearest trailhead parking areas, including GPS trailhead coordinates to get them to the start of the trail. Each trail has been thoroughly researched, recently hiked and includes detailed descriptions, trail profiles and maps. At a glance categorical ratings, such as scenery, trail condition, difficulty, solitude and kid-friendliness, let you quickly select a trail that fits your tastes and ability. Other key information such as fees, restrictions for dogs as well as advice on when to visit offers you the best information so you can plan your trip with ease.

About the Author
---
British-born Rob Rachowiecki has lived and traveled throughout the Americas from Alaska to Argentina, authoring numerous hiking and climbing guides along the way. He is often found hiking the many desert, canyon, and mountain trails surrounding Tuscon where he calls home.