#MurderTrending (Hardcover)
Last Book Ordering Day for the Holidays!
December 12th is the last ordering day for customer deliveries outside of South Bend, IN (and surrounding areas) to receive orders by December 24th.
December 14th is the last ordering day for South Bend, IN customers for ins-store pick up by December 24th.
Books must be in stock to qualify.
Please call/text to check availability!
574-400-5572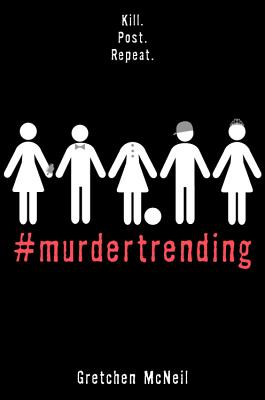 Description
---
@doctorfusionbebop: Some 17 y. o. chick named Dee Guerrera was just sent to Alcatraz 2.0 for killing her stepsister. So, how long do you think she'll last?
@morrisdavis72195: I hope she meets justice! She'll get what's coming to her! BWAHAHA!
@EltonJohnForevzz: Me? I think Dee's innocent. And I hope she can survive.
WELCOME TO THE NEAR FUTURE, where good and honest citizens can enjoy watching the executions of society's most infamous convicted felons, streaming live on The Postman app from the suburbanized prison island Alcatraz 2.0.
When seventeen-year-old Dee Guerrera wakes up in a haze, lying on the ground of a dimly lit warehouse, she realizes she's about to be the next victim of the app. Knowing hardened criminals are getting a taste of their own medicine in this place is one thing, but Dee refuses to roll over and die for a heinous crime she didn't commit. Can Dee and her newly formed posse, the Death Row Breakfast Club, prove she's innocent before she ends up wrongfully murdered for the world to see? Or will The Postman's cast of executioners kill them off one by one?
About the Author
---
Gretchen McNeil is the author of I'm Not Your Manic Pixie Dream Girl and the Don't Get Mad duology, as well as the YA horror novels Possess, 3:59, Relic, and Ten which was a 2013 YALSA Top Ten Quick Pick for Reluctant Young Adult Readers and was adapted as the Lifetime original movie Ten: Murder Island in 2017. You can find her online at www.GretchenMcNeil.com, on Instagram @Gretchen_McNeil, and on Twitter @GretchenMcNeil.
Praise For…
---
"#MurderTrending is an edge-of-your-seat, heart-pounding thriller...[An] inventively gory, regularly humorous and extremely suspenseful novel."—
Shelf Awareness
"McNeil's talent for creating an enticing plot paired with heart-pounding pacing shines in her latest."—
Buzzfeed
"In this biting satire of reality shows and today's U.S. political atmosphere... McNeil... offers a tense, fast-paced tale that balances gore... pop culture, and dark comedy."—
Publishers Weekly
"#MURDERTRENDING is a slick, sharp, darkly comedic thrill ride. #AMustRead."—
Lamar Giles, Edgar Award Nominated author of Fake I.D.
"The fast-paced action will appeal to fans of The Hunger Games... A gory thriller that moves at breakneck speed, this book will be hard to put down for older teens with a penchant for horror."—
School Library Journal
"McNeil has written a compelling story that cleverly mixes dystopian, survivalist, and mystery genres together... Give to fans of action, mysteries, and Saw-esque tricks and traps."—
Booklist
"The bloodthirsty, reality-TV-obsessed culture and the corrupt government sponsoring the show [closely] mirror our own world. The provocative message... translates, powerfully, and centering Dee and her fellow inmates in this twisty, gory story ultimately serves as a sharp indictment of our flawed judicial system."—
Entertainment WeeklyAccolades
Brightly Teen: 18 of the Most Exciting YA Books to Read in 2018 (selection)
GoodReads: Most Popular Books Published in August 2018 (selection)
Seventeen Magazine: The 20 Best YA Books of 2018 (selection)
EpicReads: The 18 Most Anticipated YA Books to Read in August, 2018 (selection)
Refinery29: The Ultimate YA Beach Reads of 2018 (selection)
Hypable: The August 2018 YA book releases that need to be on your to-read list (selection)
BNTeen: Welcome Freshmen: New Releases: Criminals Go Viral, Robin Hood Gets Retold, and What's Lost is Found (2018, selection)
Paste: 10 of the Best Young Adult Books of August 2018 (selection)
BNTeen: August's Best New Teen Books (2018, selection)
BNTeen: 15 YA Books to Read After Loving HBO's Sharp Objects (2018, selection)
Seventeen.com: The 22 Best YA Books of 2018, selection
BuzzFeed: 23 YA Books That You'll Absolutely Want to Pick Up This Fall (2018, selection)
Bustle: 13 Politically-Charged Horror Novels To Motivate You To Fight The Real Monsters (2018, selection)
"A campy ride through an all-too-familiar and twisted world that will keep you guessing."—
Mindy McGinnis, author of YALSA Top 10 Best YA Fiction of 2016 The Female of the Species