A Moon for Moe and Mo (Hardcover)
Last Book Ordering Day for the Holidays!
December 12th is the last ordering day for customer deliveries outside of South Bend, IN (and surrounding areas) to receive orders by December 24th.
December 14th is the last ordering day for South Bend, IN customers for ins-store pick up by December 24th.
Books must be in stock to qualify.
Please call/text to check availability!
574-400-5572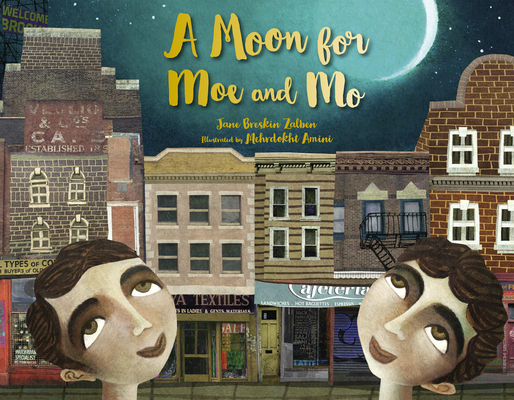 Description
---
An interfaith friendship develops when Rosh Hashanah, the Jewish New Year, overlaps with the Muslim holiday of Ramadan--an occurence that happens only once every thirty years or so.

Moses Feldman, a Jewish boy, lives at one end of Flatbush Avenue in Brooklyn, New York, while Mohammed Hassan, a Muslim boy, lives at the other. One day they meet at Sahadi's market while out shopping with their mothers and are mistaken for brothers. A friendship is born, and the boys bring their families together to share rugelach and date cookies in the park as they make a wish for peace.
About the Author
---
Jane Breskin Zalben has created more than fifty books for children. A graphic designer and former children's book art director, she's taught children's book writing, illustration, and design at the School of Visual Arts in NYC for eighteen years.

Mehrdohkt Amini is the illustrator of many award-winning children's books, including Chicken in the Kitchen, Golden Domes and Silver Lanterns, and How the Olympics Came to Be. Mehrdohkt lives in the UK. https://www.myart2c.com/
Praise For…
---
The tale of a nascent friendship between Moses Feldman and Mohammed Hassan, two kids from Flatbush Avenue in Brooklyn, New York; they have different backgrounds…yet so many things in common. Moe and Mo meet by chance at the grocery store where their moms happen to be shopping. Because of their similar curly dark hair, brown eyes, and olive-toned skin, Moe and Mo are mistaken for twins by the store owner, who gives them each a falafel. They are also quick to realize that they share more than just a similar look and have the same—at times reckless—passion for sweets and bouncing balls. Weeks pass, and they return to the store, Mrs. Feldman for Rosh Hashanah, the holiday celebrating the Jewish New Year, and Mrs. Hassan for Ramadan, the holiest month in the Islamic calendar. The kids' mothers are not indifferent to the developing camaraderie and agree to a picnic bringing the two families together to enjoy rugelach and date cookies. Author Zalben and illustrator Amini are immensely successful in creating parallels between the two boys' lives, with each aspect mirrored both in the narrative and graphically. Amini's vibrant collages capture both the busyness of the neighborhood and the growing friendship between the families. Completing the educational effort are two succinct informational sheets on both Rosh Hashanah and Ramadan along with two recipes for each tradition. A gem.
—Kirkus Reviews