Pushout: The Criminalization of Black Girls in Schools (Paperback)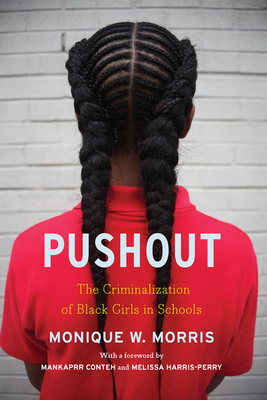 List Price: $18.95
Our Price: $17.06
(Save: $1.90 10%)
Available to Ship from Warehouse - Ships in 3 - 6 days.
Staff Reviews
---
Please join us for a new bi-monthly book discussion series focusing on how our community and society can work toward true inclusion. Next up: Pushout: The Criminalization of Black Girls in Schools - guest, Dr. Yvonne Murray-Larrier
August, Education: Pushout - guest, Dr Yvonne Murray-Larrier
Register here: St Joseph County Public Library
on the left, click the mauve-ish button - "register to attend the event"
NPR | Washington Post | NY Times
June, Economics: The Sum of Us: What Racism Costs Us
August, Education: Pushout: The Criminalization of Black Girls in Schools - guest, Dr. Yvonne Murray-Larrier - Paperback | Audiobook | Ebook
October, Voting: One Person, No Vote by Carol Anderson - guest, Dr. Christina Wolbrecht
January, Workforce: Tightrope: Americans Reaching for Hope by Nicholas Kristof and Sheryl WuDunn - guest, Kate Lee, Director of Education and Workforce, South Bend Regional Chamber of Commerce
March, Intersectionality: Song in a Weary Throat by Pauli Murray--guest, Dr. Dé Bryant, Professor of Psychology and Director of Social Action Project, IUSB
May, Housing: The Color of Law - guest, tbd
Description
---
The powerful (Michelle Alexander) exploration--featured by The Atlantic, Essence, the Washington Post, New York magazine, NPR, and others--of the harsh and harmful experiences confronting Black girls in schools
In a work that Lisa Delpit calls imperative reading, Monique W. Morris (Black Stats, Too Beautiful for Words) chronicles the experiences of Black girls across the country whose intricate lives are misunderstood, highly judged--by teachers, administrators, and the justice system--and degraded by the very institutions charged with helping them flourish. Called compelling and thought-provoking by Kirkus Reviews, Pushout exposes a world of confined potential and supports the rising movement to challenge the policies, practices, and cultural illiteracy that push countless students out of school and into unhealthy, unstable, and often unsafe futures.
Called a book for everyone who cares about children by the Washington Post, Morris's illumination of these critical issues is timely and important (Booklist) at a moment when Black girls are the fastest growing population in the juvenile justice system. Praised by voices as wide-ranging as Gloria Steinem and Roland Martin, and highlighted for the audiences of Elle and Jet right alongside those of EdWeek and the Leonard Lopate Show, Pushout is a book that will stay with you long after you turn the final page (Bookish).
About the Author
---
Monique W. Morris is President/CEO of Grantmakers for Girls of Color and co-founder of the National Black Women's Justice Institute. She is an award-winning author, filmmaker, and social justice scholar-advocate. Her books include Black Stats and Sing a Rhythm, Dance a Blues.