The Total Fishing Manual (Revised Edition): 318 Essential Fishing Skills (Paperback)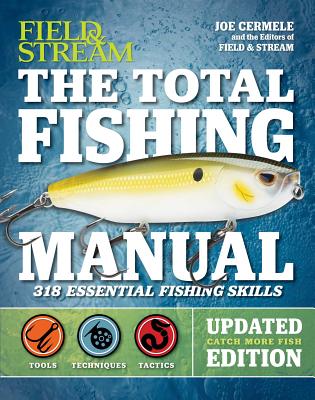 $29.00
Available to Ship from Warehouse - Ships in 3 - 6 days.
Description
---
Updated and expanded for 2017, with new expert information on everything the modern fisherman needs to know—from picking the right gear and kitting out your boat, to the best techniques and tactics for seeking, locating, and snaring your catch.

This revamped edition of the best-selling 2013 title brings readers all the information they need before they hit the water:

Gear Up Find the best of what's out there, and what isn't worth the money. Including lures, baits, flies and tackle for any situation in any style of water.

Hit the Water From streams and ponds to big lakes and the open ocean, get all the info and field-tested strategies you need be successful where you're fishing

Hook a Prize The experts at Field and Stream and professional fishing guides around the country lay out the do's and don't's, where those sneaky fish are hiding, and how to put yourself in best position for the catch and much more. Whether Bobber fishing with newbies or looking to reel in a prize white marlin in the open ocean these are the tricks, tips and techniques to get the job done.

This book also highlights some of the author's favorite fishing spots as well as some dream destinations. For amateur fisherman of all skill levels, this is a must-have book.

Packaged in a durable, wipe-clean flexicover with metallic corner-guards, this practical manual withstands heavy-duty use indoors and out.
About the Author
---
Joe Cermele was named Fishing Editor for Field & Stream in 2011. His writing appears monthly in the magazine, he blogs weekly on Field & Stream's website, and also hosts and produces Field & Stream's "Hook Shots," an award-winning web-based fishing show with a punk-rock edge. Cermele has fished all over the country and abroad, but when he's not traveling on assignment, you can find him on his boat chasing tuna and striped bass off the Jersey coast, pitching tubes to smallmouth bass on the Delaware River, or fly fishing for trout in New York's Catskill Mountains.