Impara Lo Spagnolo: 18 Storie Divertenti E Entusiasmanti Per Imparare Velocemente Lo Spagnolo - Amplia Il Tuo Lessico E Migliora La Compre (Paperback)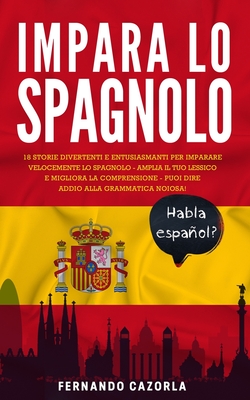 Email or call for price. Product may not be available.
Special Order - This book may not be available for purchase.
(This item cannot be returned.)
Description
---
Sei alla ricerca di un metodo divertente e efficace per imparare lo Spagnolo?Ti sei gi barcamenato in altri testi ma non hai mai avuto miglioramenti?
Bene, ho una buona notizia per te, quello che hai letto fino ad ora non era altro che un miscuglio di noiose regole grammaticali e di sintassi, ovvero IL METODO PEGGIORE per imparare una lingua. Non hai mai ottenuto risultati per una ragione per precisa, hai studiato un'infinit di regole che non hanno fatto altro che annoiarti Questo ha scatenato in te una grande frustrazione, ti capisco, successo anche a me. Fino a quando ho capito che il segreto per imparare una lingua LA CONVERSAZIONE.

Questo libro tutto ci di cui hai bisogno la migliore soluzione per i principianti, per chiunque voglia imparare questa meravigliosa lingua e per chi ha ottenuto scarsi risultati in passato.

Offrendoti:

-18 storie entusiasmanti e divertenti
-Sintesi in italiano per comprendere al meglio i racconti
-Tematiche di ogni genere
-Conversazioni semplici con dialoghi divertenti
-Sviluppo delle capacit neuro-linguistiche
-Velocit di apprendimento garantita
-L'unico modello per imparare finalmente a conversare

Ora arrivato il tuo momento: vuoi realmente imparare lo spagnolo o vuoi farti annoiare dalla grammatica?

Allora basta rimandare Adesso arrivato il Momento di Agire
Scorri la parte superiore della pagina e
ACQUISTA ORA
il libro che ti permetter
di imparare e parlare REALMENTE lo spagnolo
nel modo
pi veloce possibile