Event date:
Saturday, September 15, 2018 - 10:30am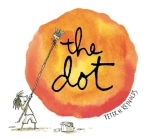 $15.00
ISBN: 9780763619619
Availability: On Our Shelves Now
Published: Candlewick - September 15th, 2003
With a simple, witty story and free-spirited illustrations, Peter H. Reynolds entices even the stubbornly uncreative among us to make a mark — and follow where it takes us.

Her teacher smiled. "Just make a mark and see where it takes you."

---

$14.95
ISBN: 9781419727016
Availability: Usually Ships in 1-5 Days
Published: Harry N. Abrams - September 26th, 2017
---

$14.99
ISBN: 9781419731655
Availability: Coming Soon - Available for Pre-Order Now
Published: Abrams Books for Young Readers - October 2nd, 2018
I am human
I am a work in progress
Striving to be the best version of ME

From the picture book dream team behind I Am Yoga and I Am Peace comes the third book in their wellness series: I Am Human.

---

$8.95

ISBN: 9781419726972

Availability: On Our Shelves Now

Published: Harry N. Abrams - September 26th, 2017

---

$17.99

ISBN: 9780399172588

Availability: Usually Ships in 1-5 Days

Published: G.P. Putnam's Sons Books for Young Readers - September 13th, 2016

Based on supermodel Georgie Badiel's childhood, a young girl dreams of bringing clean drinking water to her African village


---

$17.99

ISBN: 9780545865029

Availability: Usually Ships in 1-5 Days

Published: Orchard Books - January 30th, 2018

A NEW YORK TIMES BESTSELLER

Some people collect stamps.
Some people collect coins.
Some people collect art.
And Jerome?
Jerome collected words . . .


---

$15.00

ISBN: 9780763623456

Availability: Usually Ships in 1-5 Days

Published: Candlewick - August 28th, 2012

The sky's no limit as the author-illustrator of The Dot and Ish winds up his Creatrilogy with a whimsical tale about seeing the world a new way.


---

$15.00

ISBN: 9780763623449

Availability: Usually Ships in 1-5 Days

Published: Candlewick - August 19th, 2004

A creative spirit learns that thinking "ish-ly" is far more wonderful than "getting it right" in this gentle new fable from the creator of the award-winning picture book The Dot.

Ramon loved to draw. Anytime. Anything. Anywhere.


---